Is Book Packaging Still Relevant?
Reading Time:
2
minutes
With eBooks and audiobooks accounting for more and more of the total amount of books being sold, you might think that book wraps are on their way out. At Davpack however, that's not what we've been experiencing, with large amounts of customers seeking to get their hands-on book packaging. So why are so many people looking to purchase book packaging from us? 
Firstly, paperback books aren't showing any signs of becoming extinct any time soon as for many people, unwrapping a book is a far more satisfying experience than unwrapping a bit of paper telling you that you have an electronic download. 
Apart from (obviously) books being able to be packaged in book packaging, many other products sold through e-commerce use this type of packaging. On top of books, products such as DVD's, video games and other products in smaller retail boxes have long used book packaging to get them from point a to point b safely and securely. Recently, e-commerce giant Amazon has been using book packaging more and more for all sorts of products other than books and DVDs etc.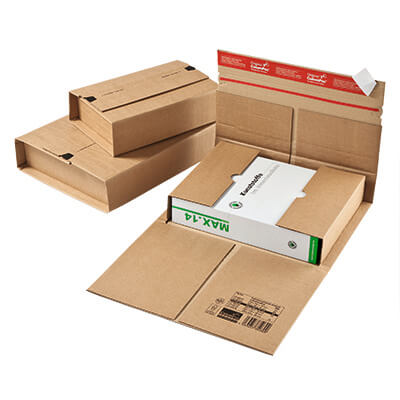 So why are book wraps being used for products other than books when other forms of packaging are available? Here at Davpack, we have many different types of book packaging and the vast majority of them are supplied with self-sealing adhesive strips that make for quick and easy closures, helping you to keep your packing times low. Also helping to keep packing times low is the fact that they are supplied pre-assembled meaning there is little to no time required to make them usable. The fact that they feature height-adjustable panels allows each size to cater to a wide variety of products of varying heights. This might not seem like much, but it allows you to streamline your packaging supplies and save money as you won't need to purchase and store as wide a variety of packaging options. 
With their user-friendliness, time-saving properties and flexibility for a wide variety of e-commerce products it's safe to say that book wraps aren't going anywhere anytime soon. Here at Davpack, we have a range of different book packaging options in a wide variety of sizes. For more information on our packaging options, give us a call on 01332 821200 or email us at sales@davpack.co.uk. 
The following two tabs change content below.
Sarah Hickson
With more than seven years experience as a member of the Davpack sales team, there are few who know more about the range of packaging materials we sell than Sarah. She recently left the company to become a full-time mother, but still maintains regular contact with her former colleagues. As well as sharing her own accumulated wisdom and experience on the blog, Sarah is looking forward to passing on stories from the front line of packaging sales.
Davpack
Latest posts by Sarah Hickson (see all)