Top Eco Friendly Packaging Alternatives
Reading Time:
3
minutes
Looking to make your packaging more eco friendly but not sure where to start? We've made this list of five packaging alternatives that you can easily switch to today to start using eco friendly packaging, cut down on plastic and reduce waste within your business. 
100% Recycled Boxes
Probably the most widely used form of packaging out there, the simple cardboard box would seem like an obvious target to make more eco-friendly. But how do you make a product that is 100% biodegradable, fully (and easily) recyclable and made from 75% recycled material into a form of more eco friendly packaging? Well, by simply making the boxes from completely recycled materials, we have made an eco-friendly packaging option that can not only be used to make new cardboard products after its use but also uses up waste cardboard in its manufacturing process. With a range of popular sizes available in single and double wall, our 100% recycled boxes are a great option for a wide variety of packaging uses. 
Eco-Friendly Loose Fill
If you're needing to fill up space in your box to maintain its structure and provide cushioning and padding to your products, then you might be familiar with polystyrene loose fill packing chips. What you might not be so familiar with, is our eco-friendly loose fill, which is made from sustainably sourced paper that has been twisted and cut into approximately 100mm pellets that add cushioning to this packaging material. As they're made from paper, they are easy to recycle in standard household recycling bins and are also fully biodegradable, unlike many other options of the market.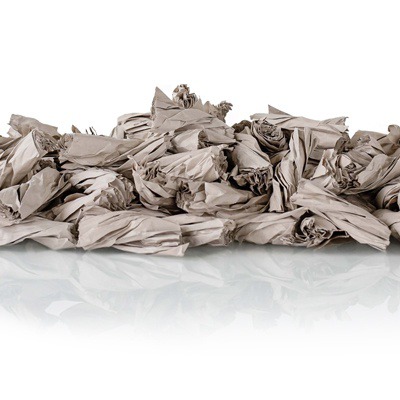 Paper Padded Mailing Bags
'Jiffy bags' or other envelopes padded with a bubble lining are a very popular packaging choice for eCommerce sellers and they are great for protecting a wide variety of lighter products whilst in transit. But what if there were variants made completely from paper? Well, here at Davpack we have a few varieties of different padded envelopes made completely from paper, including our corrugated envelopes, jiffy padded bags (filled with shredded paper fibre) and our honeycomb paper padded envelopes. All these options are completely recyclable, biodegradable and like traditional bubble padded envelopes can be reused again.  
Self-Adhesive Kraft Paper Tape
If you're looking for an eco-friendly alternative to traditional plastic packing tapes without the hassle of having to do things differently and get in new tape dispensers etc, then self-adhesive kraft paper tape is the best option. Being made from paper allows this tape to be recycled alongside the cardboard that it's attached to, speeding up the recycling process and decreasing your environmental impact even further. What's more is that unlike water-activated paper-based tapes, this tape is self-adhesive meaning it works in the same way as traditional packing tapes and can be used on the same tape dispensers. 
Brown Triangular Postal Tubes
Whilst many postal tubes are made from cardboard and are recyclable, they usually have either plastic or metal end caps, meaning that these will need to be separated at the end of its journey by the end user before they can be recycled. If, however you want to go the extra mile in making your postal tubes more environmentally friendly, then these brown triangular postal tubes are your best bet. Supplied flat packed, these postal tubes are made from 1 solid piece of cardboard and have built-in end flaps that lock into place. This makes these postal tubes 100% recyclable with no need to separate materials or need to check for specialist recycling instructions. They're 100% biodegradable too!     
If you're looking for even more eco friendly packaging products not on this list, then worry not. Here at Davpack, we have a growing range of eco-friendly packaging alternatives to help you increase the environmental friendliness of your packaging and business, from eCommerce packaging, protective packaging, tape and retail packaging. 
The following two tabs change content below.
Rebecca Price
Rebecca is a marketing specialist here at Davpack. Her speciality is making companies visible online. Fan of shopping and beautiful shoes.
Davpack
Latest posts by Rebecca Price (see all)