Top Gift Packaging Choices
Reading Time:
5
minutes
Here at Davpack, we know the importance of making your gifts stand out, whether it's for Christmas, a birthday, wedding or anniversary. Luckily for you, we've picked out some of our top gift packaging items to make it easier for you to get your gifts looking fantastic.
Hamper Trays
At the top of our gift packaging list is hamper trays, perfect for creating personalised gifts to send to friends and family. Here at Davpack, we have a choice of popular colours and sizes to suit a variety of different tastes and requirements. Use them for Christmas, birthdays or any other special occasion by simply adding some hamper filler to cushion the contents as well as enhance the look, fill with your gifts and finish off with some cellophane wrap. They come in packs of 5 so that you can get them in small quantities and are quick and easy to assemble.
Zig-Zag Shredded Kraft Paper
This item is a perfect filler material for hampers and a wide range of other gift boxes. It helps keep items in place, provides cushioning and improves the experience for your customers. Available in gold, silver and natural Kraft for a stylish finish to your gift packaging. It has been dust extracted so that you can easily use it without having to worry about any particles getting over your products or mess left lying around to clean up later.
Premium Gift Bags
If it's a stylish gift bag you're after, our premium gift bags are more than up for the task. These bags are great for a wide range of gifts and work well for any retailers looking to add a touch of class to their products' packaging. Made from high quality 170 gsm laminated paper for and smooth matt finish and available in anthracite, red and white. The rope handles provide more comfort than their paper alternatives and are also much stronger, allowing you to use them with heavier gifts. Card inserts in the base and opening of the bag give some rigidity and strength to these bags, helping them stand up straight and maintain their structure for enhanced presentation.
Custom Printed Ribbon
Custom printed ribbon is the perfect finishing touch for gifts and enables you to add some personalisation in the form of messages, branding and company logos. Whether you're a retailer getting in the festive spirit or you're giving gifts to friends and family, custom printed ribbon goes the extra mile when it comes to presentation. With the option to add text, artwork or both, you'll have a wide range of choices to create the perfect personalisation for you. This type of ribbon is available in 10m rolls, with no minimum order quantity, it's perfect if you only want to use it for a few gifts.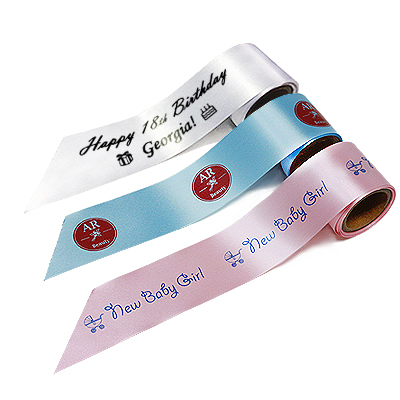 Luxury Gift Boxes
These gift boxes offer a stylish look and feel and are made from strong single wall board that provides sturdy outer packaging for your gifts and products. Choose between 4 luxury colours and 3 popular sizes to fit your gift and enhance their presentation. These boxes have a hinged flip lid and come with optional bottle dividers for 1, 2 and 3 bottles (smallest to biggest box sizes) so that you can utilise them for presenting both bottles and more standard types of gifts. With mini packs of 5 and larger packs of 25 or 50, you can use them for personal use for friends and family or as a business for your customers.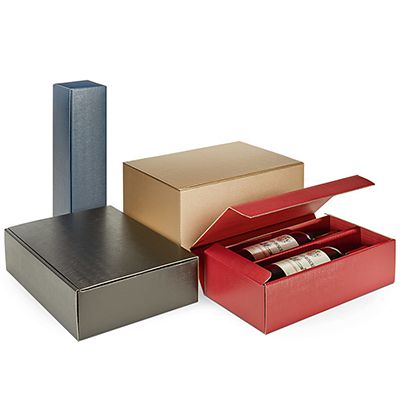 Bottle Carriers
If you're packaging beer bottles as gifts and want to enhance their presentation, this is probably the best way to do it. These bottle carriers have three spaces available for either 330ml or 500ml bottles and allow you to mix and match different ales and beers of your choice. Perfect for businesses that want to create tester gift sets or for individuals that want to create personalised gifts at an affordable price. The integrated carry handles are easy to construct and make it easy in a retail environment for your customers to carry around.
Coloured Ballotin boxes
If you want to make your chocolate and confectionery stand out these bright and colourful ballotin boxes are great for drawing some attention. Made from solid board cardboard they are lightweight but sturdy and with 12 sizes and 12 colours to choose from you have a wide range of choices for your specific needs. All the internal surfaces on the boxes come with glassine liner sets that are grease resistant, making them well suited for packaging chocolate, confectionery and other small dry food items meaning you won't have to worry about any residue of the contents seeping through the box and spoiling your presentation.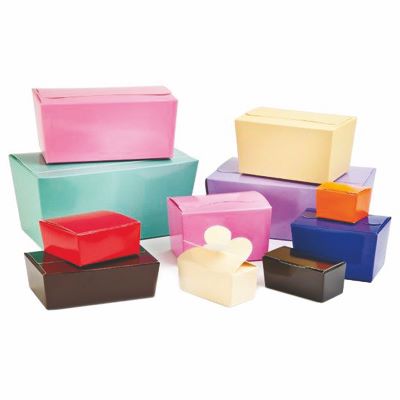 Coloured Tissue Paper
Coloured tissue paper is a great addition for gifts and can go the extra mile when enhancing your gift products by adding some vibrancy to them as well as providing some protection. You can use it to fill out extra space in gift bags and boxes, interleave between different items or also use it as wrapping paper itself. Although it doesn't offer the type of heavy-duty protection that something like bubble wrap would, it does offer an extra level of protection for gift items when it has been scrunched and has had a few layers added to your product and works particularly well for clothing items and accessories. Our coloured tissue paper is acid and chlorine-free, so It won't tarnish and damage delicate items.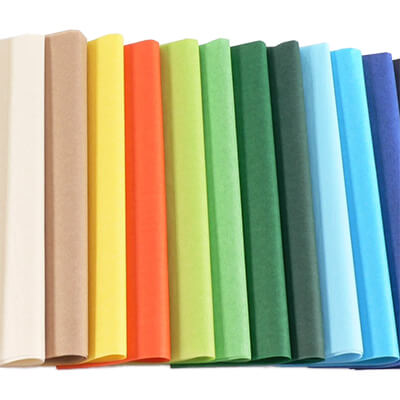 Clear Presentation Bags
Last but not least are our clear presentation bags, perfect for presenting and packaging a range of sweets, treats, confectionery, candles and other small gifts. Made from food-grade polypropylene with superb clarity and featuring card bases to help add structure to the bags and help them stand up straight when they are filled with their contents. Sold in packs of 100, they are perfect for on the shelf retail items, corporate gifts and tombola gifts.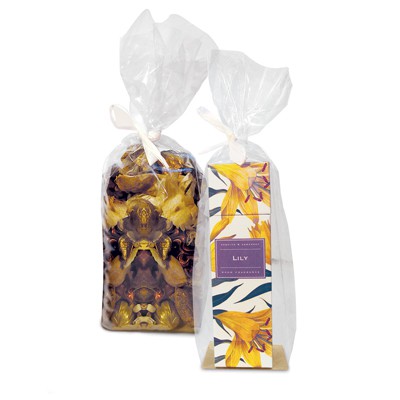 Whatever the occasion, we hope you now have some ideas to create the perfect gifts to wow your customers or friends and family. But it doesn't end there, with a huge range of gift boxes, gift bags and various other gift packaging items you have a huge range to pick from when creating the right gift packaging for any occasion.
The following two tabs change content below.
Sarah Hickson
With more than seven years experience as a member of the Davpack sales team, there are few who know more about the range of packaging materials we sell than Sarah. She recently left the company to become a full-time mother, but still maintains regular contact with her former colleagues. As well as sharing her own accumulated wisdom and experience on the blog, Sarah is looking forward to passing on stories from the front line of packaging sales.
Davpack
Latest posts by Sarah Hickson (see all)