The Davpack Father's Day Gift Guide
Reading Time:
5
minutes
Although the first Father's Day was celebrated in 1910, as a response to the recently established and successful Mother's Day, it didn't catch on for many years. In fact, while Mother's Day was declared a national holiday in the USA in 1914, the same didn't happen for Father's Day until 1972.
Now, of course, it has become a popular annual event around the world, and a great opportunity to show your dad (or other father figure) some appreciation for all he has done. That's usually achieved by giving a card and/or gift.
So, here are what we think are the ten most popular and appropriate gift ideas – with the most suitable accompanying packaging if you're selling them, supplying them by mail order or handing them over to your own dad on June 15.

1 Music and Film
Many dads, at the end of a hard day at work, like to relax in a favourite armchair listening to music or watching a blockbuster movie. CDs and DVDs are therefore usually a safe and much appreciated idea for a Father's Day gift.
Sending them though the post needn't cost that much, especially if you use one of our Economy Large Letter Postal Boxes. That means not only are you saving on the packaging itself (the clue is in the title, but don't think for a minute that 'economy' suggests low quality – these are well designed boxes more than strong enough for the job!), you can also be confident that you won't spend a penny more on postage than you need to, as they've been specially designed to meet the Royal Mail's 'large letter' pricing band.
2 Alcohol
Once your dad has sat himself down to listen to his new CD or watch his new DVD, he's naturally going to want to have a drink to further relax with as well. If he has a nose for a good bottle of wine, we can heartily recommend our range of wine bottle packaging ideas. With options for everything from one to twelve bottles, these are cleverly designed protective postage solutions, with either rigid corrugated cardboard dividers to ensure the bottles don't rattle against each other in transit, or specially designed and shaped pulp mouldings to surround and protect the individual bottles.
3 Personalised Mugs
If a nice cup of tea is more his thing, then a personalised mug could be just what he needs. Digital technology has made these incredibly easy to do, and whether you decorate it with The World's Greatest Dad, a picture of the dog, or that photo you took of him looking the worse for wear after he rolled in at 2am after last year's office Christmas party, you can be sure it will reach him in perfect condition if it's sent in one of our new mug boxes.
With several layers of board on all sides to ensure the contents are fully protected, they're designed to hold a standard size mug (they have internal dimensions of 102mm3), which also means they're cheap to post, as they meet the Royal Mail's 'small parcel' pricing band.
4 Gadgets
Most men like their gadgets, and the pace of modern inventiveness and technology means we're never short of fresh and clever ideas with which we can spoil them. Gadgets that depend on microchips to work (and, let's face it, nearly all the best ones do) need more protection than most, as not only are they vulnerable to the usual knocks and bumps, they can also be damaged by an electrostatic discharge.
Not if you send them in Davpack anti static packaging! Our anti static bubble bags and postal boxes protect their contents by making sure any damaging electric charge is kept well away from your product. Find out more about the physics of anti static packaging and electrostatic discharges by clicking here.
5 Socks and ties
Most men it seems are happy to keep on wearing treasured socks until there are more holes in them than actual material. New ones, then, while rarely requested, are nearly always required. Ties are also a safe bet. Making what can be mundane gifts into something infinitely more special can be easily achieved by presenting them in one of our coloured cardboard gift boxes with lids.
Available in a range of glorious colours (although, on this occasion, we probably wouldn't recommend the pink ones) with either solid or see-through lids, they manage to achieve what very few men seem able to – being both attractive and practical at the same time.
6 Chocolates
Men like their chocolate almost as much as we do, although they're usually loath to admit it. A quick poll around the office suggested that Toblerones are a popular choice, but although we do have suitably shaped packaging in the form of our triangular postal boxes, they would have to be pretty huge Toblerones to comfortably fit.
Our other chocolate packaging, however – which you can find in the same section as the aforementioned coloured gift boxes on our website – should do just the job. Made from either clear acetate or folded coloured board, they give that delightful sense of indulgence that all good chocolate deserves.
7 Books
Whether he prefers a Booker Prize-winning novel, a military history or a sports biography, it's always good to give him something that's likely to keep him quiet and out of the way for a bit. Whatever the occasion, books are always a sensible choice – and for sending them to people in the post, so are our superb book boxes.
Books may not be breakable, but they can be easily damaged, especially on the corners where even a small bump can cause unsightly and usually permanent dents. The multiple layers of board and extended corners on our book boxes ensure the contents have the best possible protection, and with a wide range of sizes and styles for all budgets available straight from stock, are a must for any bookseller or publisher.
8 DIY and car care
If the dad in your life likes to spend his spare time polishing and tinkering with his car or, even better, making improvements around the house, then new tools and car maintenance kits will always go down well. Our tough, no-nonsense Econopost postal boxes are solid cartons with a strength that belies their low cost, making them ideal for mailing this kind of gift.
Each box has been designed to give two layers of cardboard on the base and three on the sides, giving them reliable rigidity that won't be troubled even by weighty tools.
9 Slippers
Wearing slippers has a number of notable advantages for the average dad – they're comfortable, they keep his feet warm and, most importantly, they stop him walking through the house in dirty shoes! We've recently introduced a luxury range of white shoe boxes that are smart, strong and ideal for packaging, presenting or posting them.
10 Sports and fishing gear
Encouraging him in his outdoor pursuits opens up a whole new range of options! It also opens up a whole new range of packaging solutions: long boxes or postal tubes for fishing gear and snooker cues; garment boxes for football shirts, jogging bottoms and other sports clothing; cardboard shoe boxes for trainers, running shoes and hiking boots; or everyday cardboard boxes for just about everything else!
These are our ideas? What will you be buying your dad for Father's Day? Or, if you are a dad, what would you most like to receive? Let us know via the comments below, and we'll find the right packaging solution for your gift idea.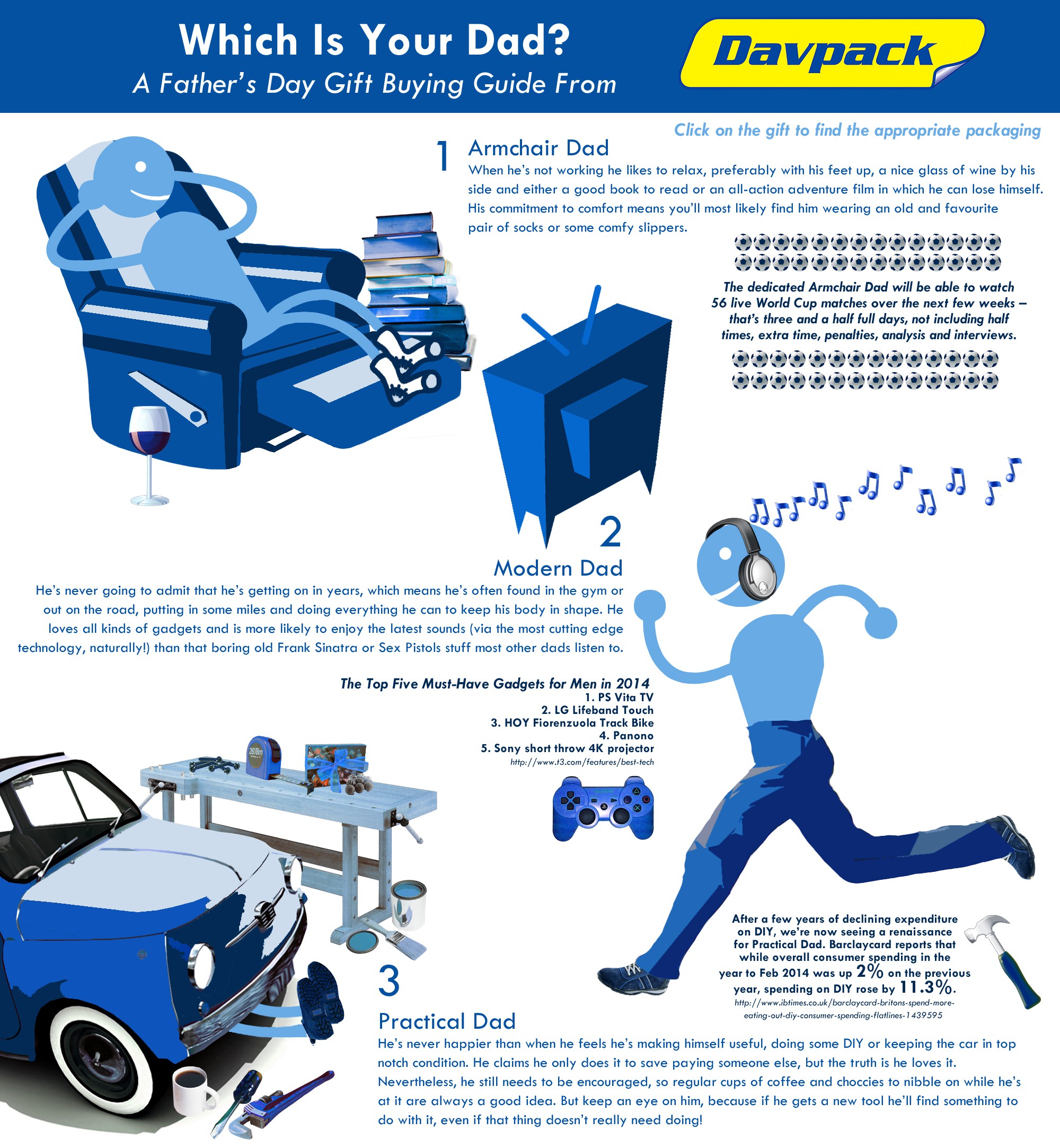 Davpack
The following two tabs change content below.
Sarah Hickson
With more than seven years experience as a member of the Davpack sales team, there are few who know more about the range of packaging materials we sell than Sarah. She recently left the company to become a full-time mother, but still maintains regular contact with her former colleagues. As well as sharing her own accumulated wisdom and experience on the blog, Sarah is looking forward to passing on stories from the front line of packaging sales.
Davpack
Latest posts by Sarah Hickson (see all)