Making Your Own Hamper
Reading Time:
3
minutes
If you're struggling to think of a gift to get your friends, family or loved ones this year why not consider making your own hamper full of their favourite things instead? Not only does a gift hamper give you the opportunity to get multiple smaller gifts (reducing the risk of the recipient pretending to love it while they actually hate it) but it allows you to make your gifts that much more personal when you've filled it with things that the receiver loves. It might take a little more work and effort but with the extra personalisation that it offers it's definitely worth it. Whether you're buying for someone close, a work colleague, young, old, male or female, hampers can be tailored to become a great gift for anyone.  
Hamper Boxes 
First thing you'll want to do when you start making your own hamper is make a list of the recipients' favourite things, whether it's wine, beer seasonal food & confectionary and cosmetics. With that in mind pick out a hamper that your selection of gifts will fit in. Make sure that you have enough items to fill the hamper whilst still fitting in well enough to be presented nicely. We have a wide variety of sizes and styles of hampers to choose from, including our standard hampers in a variety of colours, wooden effect hampers for a rustic feel and our large hamper boxes to help you fit in even more great gifts! 
Filler Materials
The next thing you'll need to create your perfect hamper gift a filler material to help protect your items, hold them in position and generally enhance the look of your hamper by padding out empty spaces. Here at Davpack, we have a variety of filler materials depending on your desires, including our natural wood wool (which is great for the environment), zig-zag shredded kraft paper which is available in a wide variety of colours to make your hampers stand out or our shredded cellophane for a more contemporary look and feel. 
Finishing Touches
After you've selected the hamper of your choice and added all the recipient's favourite items along with some filler material it's time to get your hamper wrapped up. This can be done with our clear wrap that comes clear, pink, red or with polka dot patterns. Our clear wrap helps to give your hamper a finished look as well as adding some more security to make sure all the items are kept in the hamper, and when finished off with some coloured ribbon makes for a great looking gift!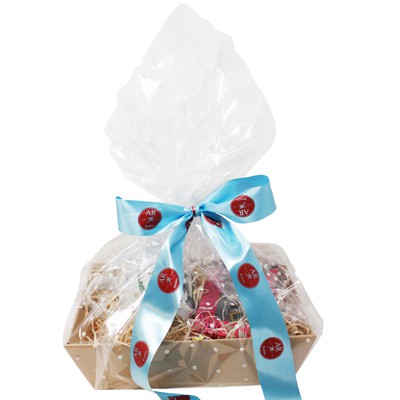 So, the next time you find yourself struggling to think of a gift for someone, don't waste your money on meaningless (and potentially expensive) gifts that the recipient might not even like. Although it might take a little more effort to get all the bits together, the benefit of making your own hamper is that you can make it very personal with a variety of smaller gifts rather than having to put all your thought and money into one or a few larger gifts. 
The following two tabs change content below.
Rebecca Price
Rebecca is a marketing specialist here at Davpack. Her speciality is making companies visible online. Fan of shopping and beautiful shoes.
Davpack
Latest posts by Rebecca Price (see all)