Choosing The Right Cardboard Box Styles
Reading Time:
4
minutes
Here at Davpack, we have a huge range of cardboard box styles to choose from, however with such a wide range it might seem difficult to decide on the best box for you and your products. 
The first step to finding the best box for you is to measure the would-be contents along their length, width, and height. With your product dimensions at hand, you will want to find a box that is slightly larger than that (all our dimensions are internal unless specified otherwise) so that any protection can be added if needed. After that, you will want to weigh your products which can help you decide on the best category of boxes. 
Single, Double or Triple Wall
Single Wall
Single wall boxes are made from one layer of corrugated fluting sandwiched between 2 layers of paper, usually Kraft paper on the outside and test paper on the inside (but can be a combination). Single wall boxes are the most used boxes, and they offer great levels of structure and rigidity to keep their contents safe. Single wall cardboard boxes are a great choice of packaging for items that weigh up to 10kg and they are also the most affordable of the three main categories, making them an excellent choice to keep your packaging costs low. With over 200 sizes on just our standard 0201 style single wall boxes to suit a wide range of products. 
Double Wall 
Double-wall boxes are made with two layers of corrugated fluting and three layers of paper (usually a Kraft paper outer and the rest being test paper). Often, two different fluting grades are used to maximise the performance these boxes, with a smaller fluting for rigidity and structure and a larger fluting for impact protection and cushioning. Double-wall boxes are a great choice for items that are too heavy for single wall boxes as they can hold up to 30kg of weight when evenly dispersed. 
Triple Wall
Triple wall boxes are the heaviest duty of all the cardboard boxes and are made from three layers of corrugated fluting with four layers of paper. All these layers of fluting give triple wall boxes an extremely strong structure, damage resistance and an ability to hold up 50kg when evenly dispersed. This massive weight capability makes the triple wall a popular choice for exporting heavy items when you don't want the bulk of plywood crates.   
After going through the main categories of different cardboard boxes we can start looking at some more specialised cardboard box styles. 
Telescopic Boxes
Telescopic boxes are a great cardboard box style for those that need their cardboard boxes to fit a wide variety of their products. Telescopic boxes are composed of a base and lid that slides over one another, which on top of making them height adjustable adds double protection when the boxes overlap, making them a popular choice for bulky items. As they can fit a variety of different sized products, telescopic boxes allow you to get the most out of our quantity discounts as you can buy more of one size rather than having to buy a variety of different sizes.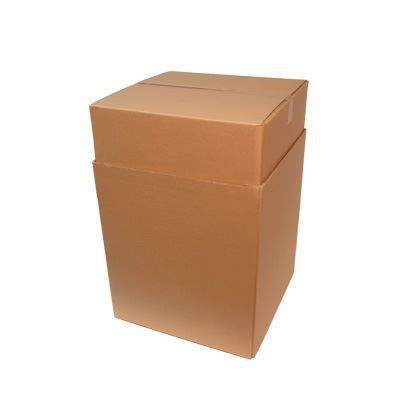 Adjustable Boxes
As their name suggests, these boxes can be adjusted to the size of their contents. Each box is pre-creased at the sides, and by cutting down to the required crease in each corner you can simply fold the flaps over and seal like a standard box. Just like with telescopic boxes, adjustable boxes can be used for a variety of sizes of products and can help you save money by being able to make the most of our quantity discounts and streamline your ordering process by cutting down on the number of different sizes of boxes and the need to store all of them.      
Crash Lock Boxes
If you're looking to speed up your packing process and save some valuable time, crash lock boxes are a great choice. The bases on these boxes simply fold out and lock into place and the self-sealing peel and seal strip make closing these boxes super quick and easy without the need for any extra packing tape. On top of being able to quickly construct and seal, our crash lock boxes are also adjustable and can be cut to height and with an integrated tear strip are just as quick and easy for the recipient to open them.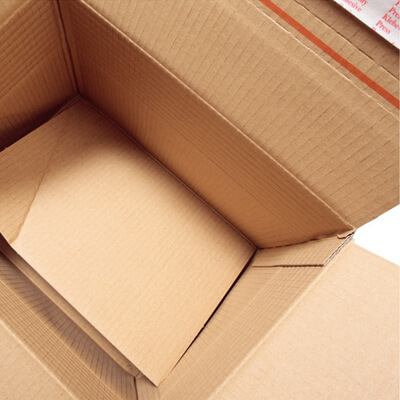 We hope that you now have a bit more information to help you pick the perfect box for you and your needs. If you find yourself wanting to explore our wide range of cardboard box styles and sizes further have a visit of our website or give us a call on 01332 821200 for more information where we can advise you on custom packaging and custom printed options to help enhance your brand and make your deliveries more memorable.      
The following two tabs change content below.
Sarah Hickson
With more than seven years experience as a member of the Davpack sales team, there are few who know more about the range of packaging materials we sell than Sarah. She recently left the company to become a full-time mother, but still maintains regular contact with her former colleagues. As well as sharing her own accumulated wisdom and experience on the blog, Sarah is looking forward to passing on stories from the front line of packaging sales.
Davpack
Latest posts by Sarah Hickson (see all)